---
WELCOME TO NIMR
To be an institution of excellence in basic, applied and operational research for the promotion of national health and development in Nigeria...
To conduct research into diseases of public health importance in Nigeria and develop structures for the dissemination of research findings while providing the enabling environment and facilities for health research and training in cooperation with the federal and state ministries of health and in collaboration with universities, allied institutions and organized private sector nationally and internationally...
The mandate of the Institute under the enabling Act of 1977:...

Prof. Babatunde L. Salako
MBBS(Ib), FWACP, FRCP (Edin), FRCP (Lond), MNIM
Director General / CEO
                Meet the DG

Read More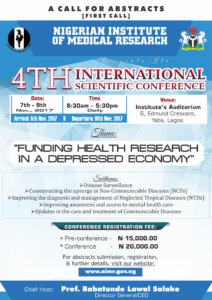 NIMR 4th International Scientific Conference
7th-9th November, 2017. Lagos-Nigeria.
NIMR host Scientists from Biotech, Thailand
PAYMENT PROCEDURE FOR NIMR TRAINING
News Flash

4th International Scientific Conference: 7th-9th November 2017, Lagos – Nigeria Abstract Submission Guidelines...

Read More
The Nigerian Institute of Medical Research (NIMR) was established through the National Science and Technology Act of 1977, the Medical Research Council of Nigeria was renamed the National Institute of Medical Research.  This name was further changed to the Nigerian Institute of Medical Research (NIMR) in 1993. pdf  or  doc. ...

Read More