---
WELCOME TO NIMR
To be an institution of excellence in basic, applied and operational research for the promotion of national health and development in Nigeria...
To conduct research into diseases of public health importance in Nigeria and develop structures for the dissemination of research findings while providing the enabling environment and facilities for health research and training in cooperation with the federal and state ministries of health and in collaboration with universities, allied institutions and organized private sector nationally and internationally...
The mandate of the Institute under the enabling Act of 1977:...

Prof. Babatunde L. Salako
MBBS(Ib), FWACP, FRCP (Edin), FRCP (Lond), MNIM
Director General / CEO
                Meet the DG

Read More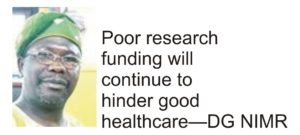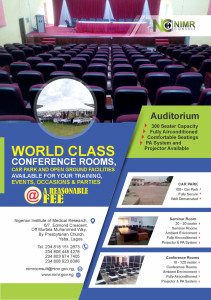 Prof. Andre Pascal Kengne, MRC, Cape Town
visits NIMR 18th -24th November 2017 to deliberate with the research community especially on setting agenda for research collaboration, network and funding for NCD research priority in Nigeria.
PAYMENT GUIDELINE FOR NIMR SERVICES

SANGER SEQUENCING WORKSHOP

Click for details
Click to register
NIMR in Collaboration with Nigerian Council of Physicians of Natural Medicine (NCPNM) Organizes a 3-day training /workshop on Steps to Commercialization of Herbal / Medicine Products in Nigeria.
27-29, Nov. 2017. 

Click for details

NIMR in conjunction with ACURET.ORG
(ANIMAL CARE AND USE IN RESEARCH, EDUCATION AND TESTING)
A 5-Day Training/Workshop on
ESSENTIALS OF RESPONSIBLE ANIMAL EXPERIMENTATION: RANEXT BASICS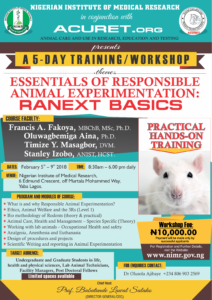 Click for details
Click to register
Nigeria gets the First Internationally Accredited Public Medical Laboratory at Last
The Centre for Human Virology & Genomics, NIMR becomes the first Public Medical Laboratory in Nigeria to get ISO 15189:2012 International Accreditation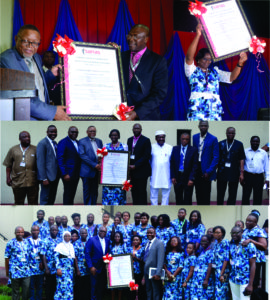 News Flash

The Nigerian Institute of Medical Research (NIMR) was established through the National Science and Technology Act of 1977, the Medical Research Council of Nigeria was renamed the National Institute of Medical Research.  This name was further changed to the Nigerian Institute of Medical Research (NIMR) in 1993. pdf  or  doc. ...

Read More
How Is Ebola Fever Diagnosed: Ebola fever is diagnosed using blood tests to detect the Ebola virus in your blood. Your doctor may test you for the Ebola virus if you have symptoms of Ebola fever and have recently been in an area where the virus is found. How Is...

Read More