Center for Human Virology and Genomics, now a WHO Prequalification Evaluating Laboratory
The Center for Human Virology and Genomics (CHVG) in the Microbiology Department at the Nigerian Institute of Medical Research (NIMR) has just been listed as a WHO Prequalification Evaluating Laboratory. This happened after a successful re-audit of the laboratory to ISO 15189:2012 standard by WHO Geneva on Monday 22nd January 2018. This makes CHVG the first laboratory in West Africa to attain this feat. It therefore means that this laboratory is now listed as a WHO Prequalification Evaluating Laboratory to perform evaluation of In Vitro Diagnostics (IVDs) either coordinated by WHO or commissioned by manufacturer. CHVG would now conduct independent performance evaluations of IVDs which will assist in the diagnosis and/or monitoring of infection with HIV-1, hepatitis B and hepatitis C.


The Call by WHO
This laboratory which was recently accredited to ISO 15189:2012 began the journey to being listed as a WHO prequalification evaluating laboratory in December 2016. It was at the satellite session of Strengthening Laboratory Management toward Accreditation (SLMTA) workshop at the conference organized by the African Society of Laboratory Medicine (ASLM) that participants were challenged to attend the WHO session on prequalification evaluation of In vitro Diagnostics. At this session, there was an invitation to laboratories with experience in conducting independent performance evaluations of in vitro diagnostics (IVDs) which assist in the diagnosis and/or monitoring of infection with HIV-1/HIV-2, syphilis, hepatitis B, hepatitis C, Human Papillomavirus (HPV) and G6PD to submit an Expression of Interest for WHO Prequalification Evaluating Laboratories.  To be eligible to apply, laboratories have to be national laboratory that provide testing services to the government in their respective country particularly those located in geographical areas corresponding to the intended setting of use of the IVDs, such as Africa.
Activities of CHVG
The CHVG being a national reference laboratory for HIV and viral hepatitis, took up the challenge to submit an expression of interest because of its past experience. The laboratory has evaluated the performance of several IVDs in the past. Since 2004, it has been responsible for evaluating HIV rapid test kits for our national regulatory body in Nigeria. Similarly, it has been evaluating performance of hepatitis B and C rapid test kits for product distributors in the country. The objective of the performance evaluation is to ensure acceptable performance of the test kits before either product registration in the country and/or before they are recommended for mass screening exercise as in the case of hepatitis B and C kits. CHVG has in her biorepository a pool of characterized panels for HIV, hepatitis B and C prepared for this purpose.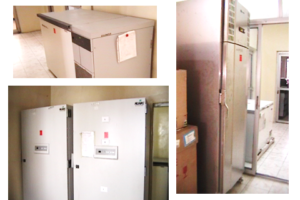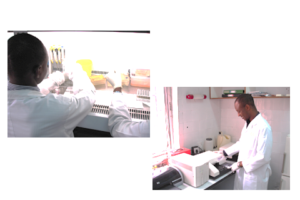 The laboratory is enrolled with the College of American Pathology and Quality Control for Molecular Diagnostics, which are independent external quality assessment providers to ensure her own proficiency. The laboratory has maintained satisfactory performance in these schemes over the years. The laboratory provides routine diagnostic services for HIV-1 confirmation, HIV-1 viral load and early infant diagnosis to our institutional HIV treatment center which cares for over 20,000 patients and patients from other health facilities. CHVG also conducts Hepatitis B and C serology and viral loads for several other hospitals and laboratories across the country. These are the sources for the continuous access to clinical samples from where panels are prepared for performance evaluation. The laboratory has highly skilled and competent personnel who perform these assays and evaluations. The laboratory practices quality management system and had been previously certified to ISO 9001:2008 (1). CHVG is one of the first cohorts of laboratories enrolled in the SLMTA roll out programme in Nigeria in 2010 and it had ASLM Four stars recognition in 2012 during the surveillance audit (2). Recently it obtained ISO 15189 accreditation from the South African National Accreditation Scheme.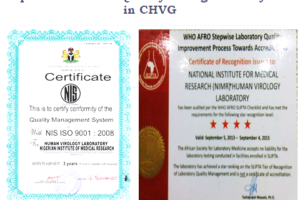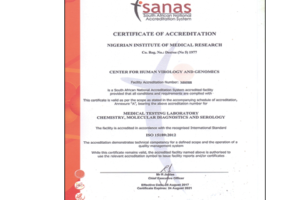 The journey towards WHO listing
As soon as the ASLM conference was over, we completed the WHO online forms and by 23rd December 2017 we submitted an application to WHO Prequalification of In Vitro Diagnostics Programme (3), Geneva. At this time, the documents of the laboratory had been successfully reviewed by the accreditation body. However, WHO required us to make some amendments our method validation reports which we did. The initial audit by WHO was scheduled for a date in May 2017 by which time the pre accreditation assessment by the accrediting body had taken place. Since the laboratory had been successfully assessed for accreditation within a space of about six weeks before this date, we quickly fixed the non-conformities raised and confidently awaited the WHO auditors. When the audit finally took place, several non-conformities were identified that made us almost gave up hope of being selected. Nevertheless, we summoned courage and effected immediate actions, we carried out root cause analyses and submitted the corrective action plans to WHO which were accepted. With the support of our top management, we effected the planned corrective actions within a period of six months. This process improved our system tremendously. The re-audit took place on the 22nd January and we were informed that the corrective action plans were effectively implemented consequently our laboratory has been enlisted as a WHO Evaluating laboratory.
We therefore enjoin other medical laboratories recently accredited in Africa to take up the challenge to identify long existing gaps that had limited best practices in our health systems. We need to harness our strength to improve medical diagnostics in the continent in order to justify the SLMTA investment made in us to attain our current accreditation status.
References
 Audu RA, Sylvester-Ikondu U , Onwuamah CK, et al. (2012): Experience of Quality Management System in a Clinical Laboratory in Nigeria. Afr J. Lab. Med. 2012;1(1), art. #18, 5 Pages. http://dx.doi. org/10.4102/AJLM.V1I1.18.
 Audu RA, Onubogu CC, Nwokoye NN, Ofuche E, Baboolal S, Oke O, Luman ET and Idigbe EO. Improving quality in national reference laboratories: The role of SLMTA and mentorship. Afr J Lab Med. 2014;3(2), Art. #200, 7 pages. http://dx.doi.org/10.4102/ ajlm.v3i2.200.
WHO Prequalification of In vitro Diagnostics. www. who.int/diagnostics laboratory