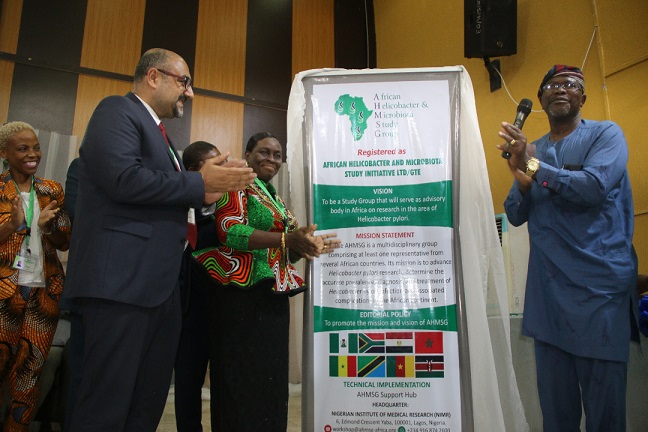 The African Helicobacter & Microbiota Study Group, an initiative of AHMSG Ltd./GTE, was launched on the 27th of June 2022 by Prof. Babatunde Lawal Salako, DG-NIMR.
Prof. Stella I. Smith, Director of Research at NIMR and President of AHMSG, says the group is made up of renowned scholars from eight African countries, including Nigeria, Tanzania, South Africa, Cameroon, Egypt, Kenya, Senegal, and Morocco.
The AHMSG, with the Secretariat located in NIMR, is commissioned to advance Helicobacter pylori research in Africa with the aim of establishing guidelines for appropriate management and treatment of Helicobacter pylori infections in the region. The launching of the AHMSI activities included a 2-day workshop to deliberate on modalities of achieving the aim of the research study group.
H. pylori is a type of bacteria that infects the stomach and small bowel of the human host. The pathogen has been linked to a variety of gastric disorders such as peptic ulcer disease, gastritis, gastric mucosa associated lymphoid tissue, MALT, lymphoma, and gastric adenocarcinoma, which has been reported in half of the world's population.